Gearhart Knitting Machine Co., Clearfield, PA.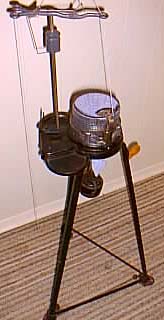 Needles: 100
I am not sure of the age of this machine, but examining a 1921 instruction books seems to indicate that it is about as old as the book. However, the instruction books were hardly ever upgraded, and the designs changed very little over the years. I have some books that used the same graphics for 50 years. You can see the same graphics in a 1970 Harmony Knitter instruction book and in a 1921 Auto Knitter book.
I think the the Gearhart is the most widely found old sock knitting machine, but the Autoknitter instruction book is the most widely found literature. You will find many Autoknitter books without machines.
Gearhart machines can be used with the stand or clamped to a table. The stand was an optional item that could be purchased separately. The stand has ordinary-looking angle iron for legs. This machine took very little cleaning and works reliably. However, since the needles are small, they sometimes jam with just the fibers from certain yarns--especially linen. It works very well with fine wool yarn.
Notice the design of the yarn tension device. It is a weight rather than a spring. Gearharts come with the yarn holder, ribber, weights, and yarn winder in differing colors of black, green, and grey.
Yarn cone or spindle is placed on the little inverted "V" wire on the back of the machine.

Name is found on the back of the camshell. It is a decal on this machine. The label is easily damaged.

Yes, this one has a ribber, but it is not shown. The ribber attachment dial always has 1/2 as many needles as the cylinder.

Close-up, Gearhart 100 Needle Machine
See a 1920 60 needle Gearhart on the Making it Work page.
---
All material on this page Copyright, R. Kanko, 1998, and may not be reproduced without permission.