V-32 Photo Pages - Index ... 6 - 7 - 8 - 9 - 10 - 11 - Next
2015 V-32 AMYA National Championship Regatta
David Kovacs Memorial NCR
The Kettering Model Sailing Club members have named this event the David Kovacs Memorial NCR in honor of our club member who suddenly passed away early 2015 of a heart attack. David was in his late 40s with no known heart problems. He was a great V-32 skipper and a good friend. We will miss him.
Kettering, Ohio August 15, 2015
Photographs by Scott Eckard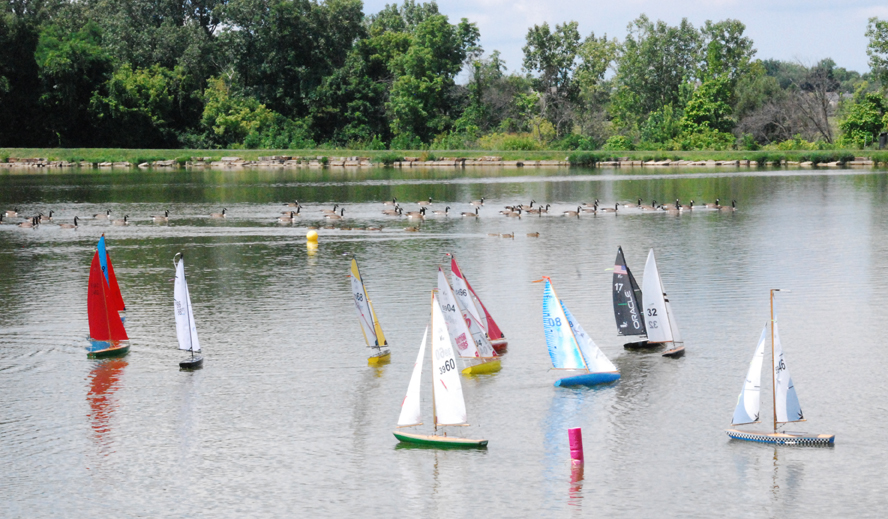 Eleven boats racing in light wind sharing the pond with the geese
| | | |
| --- | --- | --- |
| Scott Roland 1st | Rob Hill 2nd | Bob Bottenhorn 3rd |
| Ralph Kanko 4th | Russell Hardie 5th | John Emery |
| Dan Minnix | Jose Garcia | Dave Eckard |
| Bill Buschor | Steve Pratt | Bill Koch has the prettiest sails. They were made by Scott Rowland, Windjammin Sails. Bill had radio problems and did not compete. If he had, the trophy distribution would have been quite different. |
| Tugboat completes heroic rescue of demasted sailboat. Long line connected to release on tugboat, other end on shore. Just go around the boat and drag it in. | Mike Wyatt RD. Ready to blast an over early warning. Thanks for getting a large number of races completed in spite of the lack of wind. | Plaques made by Bill Buschor for First through Fifth place |
Please visit our Regatta prize contributor online!
We want to thank Ruby Dornis,

Victor Model Products

,

for providing a V-32 kit to use in our drawing. Dave Eckard won the kit.
| | |
| --- | --- |
| The AMYA V-32 2015 NCR Skippers and RD | |
| Four boats approaching the far yellow mark, trying to catch up with Dan. Go Dan! | 2014 V-32 AMYA National Champion Russ Hardie passes the V-32 traveling trophy to the new 2015 Champion, Scott Rowland |
V-32 Photo Pages - Index ... 6 - 7 - 8 - 9 - 10 - 11 - Next

Home | Sailing is Fun | Question & Ans | Getting Started | Radio Frequencies| Map | Contacts| Kit Help | Links | Schedule

This site is maintained by the Commodore of the KMSC. Expression Web 4
Copyright 2015 Kettering Model Sailing Club. All Rights Reserved.